How do Self-Insurance Plans Work?
For some employers, switching to a self-funded benefit plan provides a way out of never-ending year-over-year rate increases.
While self-funded programs have distinct advantages, they are not right for every organization. As health care costs continue to escalate, many employers are looking at self insurance. In the past it was more common for a larger employer to be self funded. Today we are seeing companies starting at 100 lives consider self-funding.

It is important to understand that under a self funded plan employers pay for medical claims directly instead of paying a fixed premium to an insurance carrier. With the passage of ERISA in 1974, insurance companies were no longer the only entities that could assume the risk. As companies continue to be faced with increases, year after year more are moving to self insurance.
Here are the top 5 reasons that we encourage our clients to explore self-funded insurance:
More control over health plan costs; only pay for what is used
Full transparency of how dollars are spent
Uniform benefits for employees throughout the country
More flexibility in plan design
Meaningful disease management and wellness that can impact the bottom line.
Not sure if self-insurance is right for you? Check out our article for some helpful questions to ask yourself.
Want to find out more on how self-insurance can help you lower benefits costs and break the cycle? Check out our article on the Benefits Revolution.
Before we get into some of mechanics of how self-insured plans work, lets take a look at some of the pros and cons involved with self-insurance.
CONS
RISK - Employers who self fund must be willing to assume the financial risk that goes with a self insured plan.
Plan management - Close plan monitoring is critical since the safety of a health plan does not exist. The employer must be willing to look at their own population to determine how care and cost management will be most advantageous.
Employee perception - Employees who understand that the plan is operated by the employer will realize that the employer has the ultimate say in whether something is covered or not. A grievance process is important. Exceptions present challenges.
Stop loss - To minimize the risks, employers purchase specific and aggregate coverage. Specific stop loss has become expensive. Purchasing realistic aggregate protection for the employer moving from fully insured to self insured is difficult in the market today.
Cash flow - Plan costs will vary by month. A self insured company must be able to sustain increased cash to fund the plan in high claim months.
PROS
Possibility of reducing costs - If an employer believes their claims utilization is lower than the average employer group, with self insurance the employer is not subsidizing the higher cost groups.
Plan structure - The employer can build the plan and determine what will be covered and how. Only federal law requirements must be met with respect to the plan design. State mandated benefits do not need to be included. A perfect example is Cal-COBRA. Under a self insured plan, the employer does not need to allow the additional 18 months of coverage.
Improved cash flow - Employers pay only as the benefits are used. Instead of under a fully insured plan whereby an employer must pay a fixed amount each month. Under a self insured plan, the employer may have months that cost less than the fixed cost program.
State taxes - In a self insured plan, employers do not pay state premium taxes. This accounts for 2-3 percent of the overall program cost. In the state of California state tax is in excess of 3 percent.
Margin and trend - Margin is eliminated and we are able to use our internal trends in projecting cost.
Cost Components of a Self-funded Plan
With a fully insured plan, the employer pays the same premium each month regardless of plan utilization. Rates rarely go down based on low utilization. A Self-Insured plan can break the cycle of endless rate increases and put you back in control of your healthcare spending.
In traditional fully insured health plans, your company's claim cost are used by insurance companies to set the rates for the upcoming plan year - the details of the claims are never provided to the employer. In the fully-insured cost model rates go up in years when the claim cost is high, but never really go down in years where claim costs are average or low. With a self-funded plan you will see where all the dollars are spent! This can provide opportunities to lower costs by leveraging programs such as wellness and preventative plans to reduce utilization.
Costs for self-funded plans can be broken down into two classes of costs - Fixed and Variable:
Fixed Costs – These plan operational expenses and stop loss insurance premium are paid monthly based on the number of covered employees and dependents.
Variable Costs – The claims which include medical and pharmacy expenses are processed and paid by the administrator. Depending on the administrator, either the employer will be able to review the claims prior to their release or funding for the claims must be made available as the claims are adjudicated. This is one of the differences amongst administrators. Daily or weekly claim funding is most typical with a self funded plan.
With medical claims there is typically a 2-3 month lag time from the date of service to when it is paid/funded.Due to the lag time, a reserve called the "Incurred But Not Reported" (IBNR) is retained by the employer. The funds would be used to pay claims should the self funded plan terminate.
How are Self-funded Plans Administered?
Although all self-funded plans incorporate the same administrative components, there are two common management structures used to administer a Self-insured plan: A Third Party Administrator (TPA) or a bundled program provided by an insurance company.
The Two Models for Self-insured Plan Administration:
1) Insurance Company - Bundled Program
Network - only allows utilization of the insurance company network
Pharmacy - contracted with the insurance company's PBM
Fees - usually higher than the use of a Third Party Administrator (TPA)
Systems - not usually flexible in plan design structure
Care management - may not be as effective as TPA
Reporting - generic reports are provided as standard reporting package. Additional or custom reports, if available, will be an additional fee.
2) The Third Party Administrator MODEL
Network - choice of networks, silent networks, centers of excellence
Pharmacy - a PBM that meets the needs of the employer is selected
Fees - usually lower than insurance companies
Systems - usually flexible enough to accommodate special plan design requests
Care management - strong, proactive, aggressive care management is critical to insure the proper medical treatment and protect the bottom line. TPAs typically have a much more proactive care management department.
Reporting - can easily be customized to meet individual client requirements.
Risk Management and Stop Loss Insurance
As with all health care plans, there is a need to protect the bottom line from very high dollar claims and overall plan utilization. There are two different types of stop loss coverage - Specific Stop Loss and Aggregate Stop Loss. These are described below.
Specific Stop Loss
With specific stop loss, the employer purchases coverage that provides insurance after a designated dollar amount per person per contract year. The coverage accumulates all services for the patient for the contract year. The coverage can include physician, hospital, ancillary and prescription drug expenses. Some insurance companies have a feature in their stop loss contract that does not require the employer to pay for all the claims and then wait for recovery of the dollars in excess of the deductible. In this type of contract, once the employer has paid claims in excess of the deductible, the insurance coverage will reimburse the employer the dollars over the stop loss. Each year in a specific stop loss contract, a new deductible will apply.
Aggregating Specific Stop Loss
An aggregating specific stop loss deductible allows the employer to retain an additional level of risk to reduce the stop loss premium. This additional layer of risk occurs once one person or multiple people have exceeded the base specific stop loss deductible. The aggregating specific can be satisfied by one person or multiple people. Once the aggregating specific has been met, the insurance coverage picks up the additional dollars incurred for the remainder of the plan year. Any new individuals with a large claim only need to satisfy the base individual specific stop loss deductible before the insurance coverage picks up the additional claim costs.
Aggregate Stop Loss
An aggregate stop loss contract protects the employer from total claims for the year running in excess of a specified dollar amount. The aggregate contract includes a margin. So for example if the annual expected total claim dollars are $2,000,000 the aggregate attachment point will be set at 125%, in other words $2,500,000. The industry calls aggregate stop loss "sleeper insurance" as it is not intended to provide recovery unless the employer has a catastrophic year.
Stop Loss Issues
When moving from a fully insured plan to a self insured plan, since claims experience is difficult to obtain, stop loss carriers are very conservative in offering aggregate coverage and the attachment point levels are usually quite high.
Stop loss carriers require disclosure of potential large claims before binding coverage. Fully insured plans do not provide enough detail to satisfy this requirement, therefore the first year disclosure may be difficult and negotiations with the carriers will be required.
Ongoing Stewardship of Self-Insured Medical Plans
Self-funded plans provide significant opportunities for you to control and reduce your healthcare benefit spending. We provide a suite of services to make sure your plan maximizes these opportunities and fits your needs.
Annual Plan Review and Renewal
Prior to the anniversary, a strategy meeting will be requested to discuss the goals of the self-insured plan for the upcoming year from a benefits and budgetary perspective. Based on the goals of the plan, the RFP process and a detailed analysis will be completed and presented to you. Ideas for reducing costs and overall management of the plan will be provided.
Stop Loss Coordination and Tracking
Each month, you will be provided with reports identifying all high dollar claimants and potential future stop loss participants. If an individual should exceed the specific stop loss deductible, all dollars will be tracked.
Claims Administration Oversight
On an as needed basis, in instances of elevated or complex claim issues, we will be involved so that issues are resolved quickly and expertly.
Large Case Management
We will oversee the management of individuals with ongoing chronic conditions or claims which exceed a certain threshold. Reports will be provided identifying the types of events and illnesses. In addition by tracking patients in large case management we can focus on Disease Management efforts with the account.
IBNR (Incurred but not reported) Calculation
The frequency of IBNR adjustment will be determined by the employer group. It will be calculated and reported by our office based on the frequency requested.
Document Preparation and Review
Documents to include stop loss, administration and RX agreements as well as SBCs and SPDs.
Loss Analysis and Data Mining
It is critical to track utilization and drill down the information in order to clearly understand the covered population. This process allows us to manage the claims incurred by the plan. As an example in the loss analysis and data mining process if we see claims for drugs increasing, our data mining will identify why that is happening. Another example is with complex radiology claims. We might identify increased utilization or overall utilization that is higher than what is expected for the demographics of the employer group. Through our process of loss analysis and data mining, we are able to identify any issues that may exist. We then report the finding to you along with any recommendations for making changes. This process reviews all medical and prescription drug claims.
Monthly, Semi-Annual, and Annual Claims Analysis/Reporting
Custom reports will be provided and reviewed with you identifying the medical/Rx expenses and plan utilization.
Disease Management/Wellness Development
Claims utilization is monitored very closely on an ongoing and regular basis. It provides us the ability to identify opportunities for helping individuals manage chronic conditions while also providing guidance on which wellness efforts will make sense for the employees and dependents of the employer group.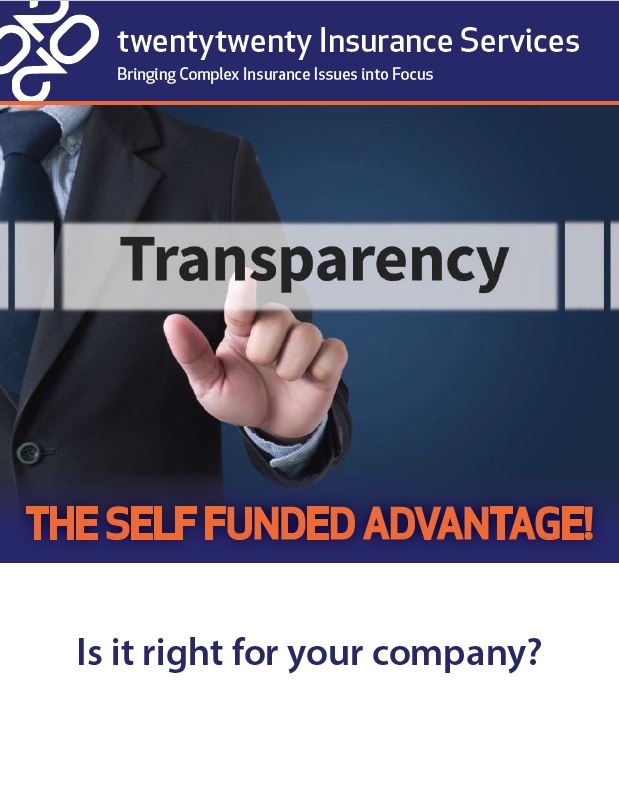 The Self-funded Advantage